Upcoming Events:
 

Events in December 2023

Mon

Monday

Tue

Tuesday

Wed

Wednesday

Thu

Thursday

Fri

Friday

Sat

Saturday

Sun

Sunday
Brain Day 2017
Wednesday August 23, 2017 9:30am – 1:00pm
Free Family event with fun activities for all ages!
Come to BRAIN DAY at the Nathan Kline Institute in Orangeburg, NY. Learn all about the brain and touch a real human brain! Play brain games! Go on a tour of the state-of-the-art Brain Imaging Suite and talk to researchers about careers in brain science. Hear talks by experts in brain science and mental health. Learn how you can contribute to brain research. Resources for parents and teachers and complimentary refreshments provided. All ages welcome.
The talks take place in one room and the activities are in another. The activities area is open and accessible all day. We have tours of our brain imaging suite where people can see how our research team safely takes pictures of the brain.  Brain imaging researchers will be on hand to discuss the process from the physics of the machine to the details of what it is like to lie down and take a picture of one's own brain.
Here are some of the activities:
View and touch human brain specimens (with gloves!) and learn about brain anatomy.
For the younger set, make neurons out of pipe cleaners, solve brain puzzles on paper and color illustrations of brains and neurons.
See and hear visual and auditory illusions that demonstrate about how the brain is organized.
Participate in a distracted driving simulation that demonstrates the dangers of trying to multitask on the road and teaches why this is a cognitive challenge.
Experience the power of automatic behaviors (like reading) and learn how scientists measure the ability to override those automatic behaviors with a simple color naming test.
Talk to research scientists about careers in brain science and how you can contribute to research.
Schedule:
9:30                        Doors open
10:00 – 10:15        Welcome to NKI by Kristin Dietz Trautman, LCSW
10:15 – 11:00        How We Study the Brain and What We Know by Michael Milham, MD PhD
11:00 – 12:30        Tours of Research Areas and Brain Imaging Suite
1:00                        End of event
Reservations are recommended for all events.
Call (845) 398-2666 or email RocklandSample@nki.RFMH.org.
Nathan Kline Institute 35 Third Ave (off Old Orangeburg Rd.) Orangeburg, NY 10962
Past Events:
Brain Day Read More
To mark the start of Brain Awareness Week and let the community know more about the open data sharing initiative Rockland Sample, fun activities and interesting talks brought 62 adults and 70 kids to NKI on March 9th 2014.  For the kids, activities included brain art such as building a neuron from pipe cleaners, brain games including sensory activities and optical illusions, education about brain health, and an opportunity to see and touch a real brain.  Adults could attend talks and participate with their children in activities.  Dr. Milham spoke on "How We Study the Brain and What We Know" while Dr. Tobe presented an "Introduction to NKI and the Rockland Sample."  Michelle Kaplan, LMSW presented "When you say 'yes' and they say 'no': Skills to increase positive parent-child interactions."  Attendees took tours of the outpatient research department and CABI imaging suite, where Dr. Colcombe and Raj Sangoi described MR tools and guided a digital exploration of the inside of a scanned pineapple.
Events and Public Talks:
At the Nathan Kline Institute, we are committed to serving our community and educating people about science. With that goal, we offer several educational resources free of charge. In order to better meet this goal, we offer the following talks to present at your local venue.
Please click on the link next to the course title to see a brief description:
Child and Adolescent Mental Health: When To Worry, When Not ToRead More
Michael Milham, MD, PhD
Dr. Milham will discuss healthy development and the impact of mental illness on it. He will also discuss forms of illness commonly encountered in children and adults, how to recognize them, and how to get help when concerns arise.
Issues in Diagnosis Versus Labeling of Mental Illness in Children and AdolescentsRead More
Russell Tobe, MD
Parents and doctors often struggle in determining the differences between simply labeling a child or their behavior and offering a diagnosis. The purpose of this talk is to help parents understand more about the factors that go into developing a diagnosis and how a diagnosis helps guide the family and treatment.
When You Say "Yes" and They Say "No:" Skills to Increase Positive Parent-child InteractionsRead More
Michelle S. Kaplan, LMSW
Ms. Kaplan will review practical strategies that parents can use with young children that have disruptive or oppositional behaviors. Parents will learn how to best use their attention to help their children calm down and feel less angry, improve attention and focus, and learn to cooperate better.
The NKI Rockland Sample: A Landmark Brain Mapping Study across the Lifespan and What It Means for Rockland CountyRead More
Russell Tobe, MD
The NKI Rockland Sample is one of the most innovative projects aimed at creating a comprehensive database which allows us to understand brain development across the lifespan based on a large sample of volunteer participants from Rockland County between the ages of 6 and 85 years. This research is critically important for preventing psychiatric illnesses and developing more effective treatments. Dr. Tobe will review some of the early findings of the study and the impact of the community's participation for Rockland County.
Strategies for Improving Your MemoryRead More
Anna MacKay-Brandt, PhD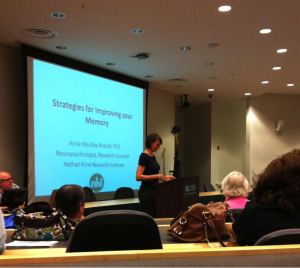 Dr. MacKay-Brandt will discuss memory changes that commonly occur as we get older and strategies to enhance memory skills to help overcome memory challenges in everyday life. Dr. MacKay-Brandt will review changes to memory associated with normal aging across the adult lifespan and will discuss strategies supported by memory research that are aimed to help people remember more easily.
Healthy Body, Healthy Mind: Cardiovascular Fitness and Your Brain as You Get OlderRead More
Stan Colcombe, PhD
Aging is associated with seemingly inevitable declines in cognitive function, brain function, and brain structure. Dr. Colcombe's research has shown that certain interventions, especially cardiovascular exercise, can reduce or even reverse some of these declines. Dr. Colcombe will discuss research findings from his own lab, and those of others, regarding approaches to offset neurocognitive decline in aging.
Aging Well: Guideposts to Happiness in Later LifeRead More
Kristin Dietz Trautman, LCSW
Happiness in later life is due in large part to specific lifestyle choices we make. Beginning in the late 1930s, Harvard Medical School conducted an unprecedented series of research studies that followed over 800 people from their teens to old age. Ms. Trautman will draw on the findings from these and other studies to show what does, and what doesn't, determine successful aging and will discuss the steps we can take to maximize our chances of a satisfying and rewarding life in the later years.
For more information, or to schedule an event, please contact:
Kristin Dietz Trautman, L.C.S.W.
Research Scientist
Community Outreach Liaison
KTrautman@NKI.RFMH.org
(845) 398-6504
If you are interested in participating in the Rockland Sample Study, please call or fill out a contact form here.